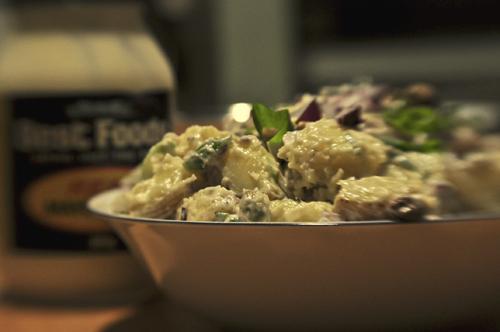 This salad is great for barbeques, and every time I make it I am asked for copies of the recipe. The secret ingretient is the brand of mayonaise- I only use Best Foods Real Mayonaise. This brand can be tricky to get in Australia because it is not available in supermarkets, continental deils usually have it. In New Zealand Kato makes a great mayonaisse, this would be my second preference. Whenever I have tried store-bought potato salads, I always find the 'tatos are undercooked and al-dente, I like them to be very well cooked and soft. My mum is an expert of the different varieties of potatoes, I generally just go for the ones that have purple skin and creamy yellow flesh, and use them unpeeled in this recipe.
Ingredients
8 large potatoes, washed and cubed
½ jar best foods real mayonaise
¼ cup shelled pistacho nuts
1 red onion, chopped
2-3 finely sliced spring onions
1 lime
Method
Boil the potatoes unti they are very soft, drain. Gently mix in the nuts, red and spring onions, and mayonaise. Squeeze lime juice over the salad and garnish with extra nuts or onion. This can be served warm, or made ahead and chilled.