PASTITSIO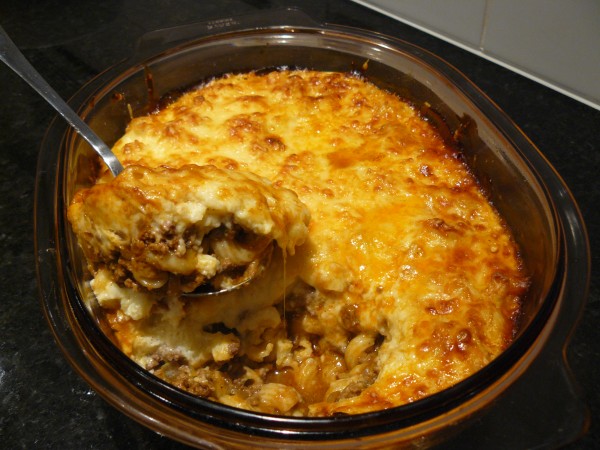 150g elbow macaroni
40g butter
1/4 t ground nutmeg
60g kefalotyri or Parmesan, grated
1 egg, lightly beaten
Meat sauce
2 T oil
1 onion, finely chopped
2 cloved garlic, crushed
500g minced beef
1/2 C red wine
1 C beef stock
3 T tomato paste
1 t fresh oregano, chopped
Bechamel sauce
50 g butter
3 T plain flour
pinch nutmeg
2 C milk
1 egg, lightly beaten
Preheat oven to 180°. Lightly grease a 1.5 litre oven proof dish.  Cook the macaroni in salted water for 10 minutes or until al dente.  Drain and return to the pot.  Melt butter then pour over the macaroni.  Stir in the nutmeg and half the cheese.  Season to taste.  Leave until cool then stir in the egg.
For the meat sauce, heat oil in a large frying pan, add the onion and garlic and cook over medium heat until the onion is soft.  Increase the heat, add the beef and cook, stirring until the meat is browned.  Add the wine and cook over high heat until evaporated.  Add the stock, tomato paste, oregano, salt and pepper.  Reduce the heat, cover and simmer for 20 minutes.
For the bechamel sauce, melt the butter in a small saucepan over low heat.  Stir in the flour and cook for 1 minute or until pale and foaming.  Remove from the heat and gradually stir in the milk.  Return to the heat and stir constantly until the sauce boils and thickens.  Reduce the heat and simmer for 2 minutes.  Add the nutmeg and some salt.  Allow to cool a little before stirring in the egg.  Stir 3 tablespoons of the bechamel sauce into the meat sauce.
Spread half the meat sauce in the dish, then layer half the pasta over it.  Layer with the remaining meat sauce then the remaining pasta.  Press down firmly with the back of a spoon.  Spread the bechamel sauce over the pasta and sprinkle the remaining cheese on top.  Bake for 40 to 50 minutes or until golden.  Allow to stand for 15 minutes before serving.